Brothers murdered husband of sister who got married in love in Meerut | Honor killing In Meerut: Sister's lover shot dead by brothers, tension between two sides

Honor killing In Meerut This morning an incident of honor killing in Meerut put the society to shame. In this traumatic incident, a young woman's brother shot his brother-in-law first, after which he beheaded his neck. The girl had married the deceased youth. Police have arrested both the youths, there is tension in the area due to the incident. Police force has been deployed on the spot.
Meerut
Updated: April 18, 2022 12:57:56 pm
Honor killing In Meerut The murder was carried out this morning in Sardhana town of the district. The murder case is said to be related to honor killing. In Mohalla Khatikaan, the brothers of a sister who had a love marriage shot her husband to death first. After that, his neck was cut with a baton. The sister who came in the middle to save her husband from the brothers was also stabbed and injured by the murderer brothers. The sister has been admitted to the hospital in an injured condition. Both the murdered brothers were arrested by the police with weapons. At the same time, sensation spread in the area due to this sensational incident. In view of the tension between the two sides, police force has been deployed in the town.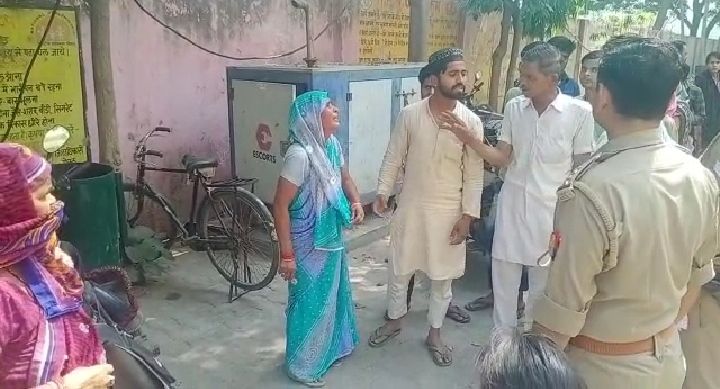 Jackie alias Patwari, living in Mohalla Khatikaan of Sardhana, had a love affair with a girl living in the neighborhood. Even after the girl's family protested, Jackie got married to the girl. After that, Jackie started living with the girl in the front house itself. The family members of the girl say that often Jackie's family used to comment on them. Enraged by this, the girl's brothers Anshu and Sagar Khatik shot and killed her sister's husband Jackie alias Patwari.
Also read: High Alert In Meerut Zone: After Violence In Delhi And Haridwar High Alert In Meerut Including West UP After the shooting, the murderer brothers cut Jackie's neck with a bow. SP Dehat Keshav Kumar, who reached the spot, said that the police reached the spot and arrested both the accused youths. The weapon used in the murder has been recovered from his possession. In view of the tension between both the sides, police force has been deployed. The dead body was taken in possession and sent for post-mortem. Police is interrogating both the accused.
next news
,.
Article Source www.patrika.com