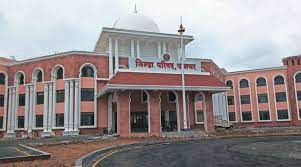 Palghar: In the retirement program of the executive engineers of the construction department of Palghar Zilla Parishad, the contractors set off fireworks as if they have the turban of the contractors on the Zilla Parishad. Due to the significant number of contractors in this farewell ceremony, this issue is currently under discussion in the district.
A special program was organized in the Zilla Parishad hall for the retirement of Zilla Parishad Executive Engineer Madhav Shankhapale. The event was attended by a large number of Zilla Parishad office bearers, department heads and officials of the construction department. It was informed that the initiative was taken by the contractors active in the construction department of Zilla Parishad. A large number of fireworks were set off during the ceremony. The entire Zilla Parishad office premises were ransacked. As the number of contractors in this program is significant, there is a discussion about the important role of contractors in the development through Zilla Parishad.
There were beehives in the Zilla Parishad office and there was a fear of mosquitoes scattering due to firecrackers. Had that happened, there would have been a catastrophe. The fireworks display took place in the parking lot.
Zilla Parishad members and contractors
Allegations are already being made that most of the Zilla Parishad members and contractors have good relations and many Zilla Parishad members are working in the name of their workers. Therefore, after coming to the office, it is seen that the number of Zilla Parishad members living in the construction department is more. The construction department and Zilla Parishad members are said to be particularly close.
.