CB News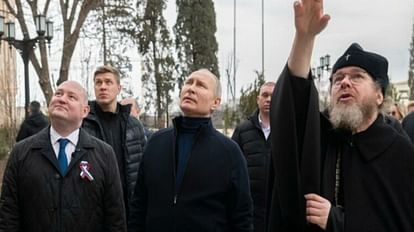 Vladimir Putin
– Photo: Reuters
expansion
Russian President Vladimir Putin made a surprise visit to Crimea a day after the International Criminal Court issued an arrest warrant. Putin made the visit on the ninth anniversary of Russia's annexation of Crimea. According to media reports, presidential spokesman Dmitry Peskov said that Putin was previously expected to attend the cultural and historical event virtually, but he arrived at the venue himself and took everyone by surprise.
According to the Russian news agency Tass, President Putin's program on Friday was also partly devoted to the situation in Crimea, and Putin held a meeting to discuss the socio-economic development of Crimea and Sevastopol.
Let me tell you that Putin participates in events every year on March 18, the anniversary of Russia's occupation of Crimea. Several times he participated in the gala concerts dedicated to this day at the Luzhniki stadium in Moscow. He held special meetings with the public and personally visited Crimea.
The last time Putin visited Crimea was in July 2020. Then he inspected the Zaliev shipyard in the city of Kerch of the Russian Navy. In December 2022, he visited the bridge linking Russia with Crimea, which was damaged in a terrorist attack.
The ICC issues an arrest warrant against Putin for war crimes in Ukraine
Significantly, on Friday the International Criminal Court (ICC) issued an arrest warrant against Putin for war crimes in Ukraine. This has been described as part of a global effort to hold the Russian president accountable for atrocities in Ukraine. However, Russia has rejected the ICC order, saying it does not care.
,.